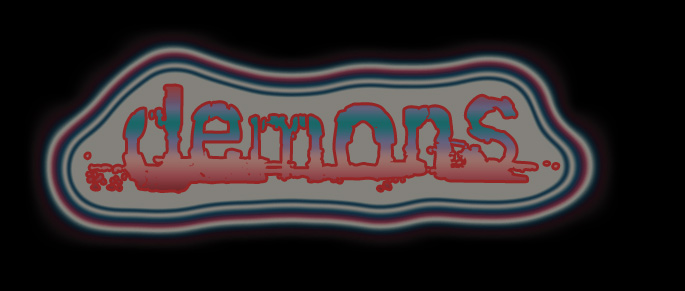 I see demons in disguise
we listen to their lies
rise above them to the sky
Doesn't anybody see it but me
how everybody in the land of the free
is enslaved by the paper money
Well I walked through the middle of the night
it really wasn't feeling quite right
I saw sights
you never want to see
Hanging out late
in the land of the free
in the wee small
hours of the morning
everybody's gone &
I see demons dawnin'
Got them in my sight
first I'm
right behind
then I'm
up above
watching them
watching everyone
watch out
the demons love
to hypnotize
the demons see
through demon eyes
and I can see
through their disguise
though they may try to hide
away
I don't believe
I don't believe
I don't believe
I don't believe
I don't believe
it was only yesterday
I don't believe
that it's only a week away
and we're weak today
depending on when they say
we fall back
and I fall apart
a new day is gonna start
and everybody's gonna play their part
the demon seed's been planted
going just the way they planned it
well I know you couldn't imagine
that behind this incredible pageant
living demons in disguise
I wrote this song a week before the election, which was of course right after Halloween.
This is actually not about George Bush, but rather John Kerry and Bill Clinton, who came to Philly a week before the election. I had a sniper's eye view from one of the buildings overlooking Love Park. It was pretty intense. I also had skated past Love Park the night before.
This song is a little cheesy but I kind of like it. Tonight (2-10 or rather 11 since it was after midnight) I was playing around with a beat and I literally started scrolling through my lyrics looking for a good song to sing to this groove, and the first one that worked was 'demons' so here it is. I'm pretty happy with the vocals on this version, I recorded them through the iMac's built-in mic!
This also makes the first song I'm releasing that features me actually playing a keyboard. I got an M-Audio Oxygen8 for Xmas. I made all my other songs with the mouse and computer keyboard. My playing is completely ridiculous on this one...it's only one note. But I like what I do with it, and there are three tracks with three different instruments playing that one note, so it's kind of cool.